DM
Duke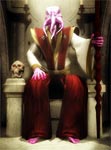 Posts: 396
Occupation: DM
Location: Victoria, BC, Canada
Posted: Sat Apr 04, 2009 6:34 am

Post subject: A guide to NPC classes and levels

---

Below are the typical npc encountered. Officers, exceptional people, prodigies, etc could be of higher level.



Soldiers


Guards for castles, places, city watch, for vip's etc are War1

Soldiers in a normal military unit are War1
Soldiers in a renowned military unit are F1

Soldiers in a veteran military unit are War2
Soldiers in a renowned veteran military unit are F2

Knight units are F3 or N(W)3 (with some Kn3)



Experts


Apprentices are Ex1
Journeymen are Ex2
Masters are Ex3
Grand Masters are Ex5



Priests


Lay priests are Ex or N(S); these form the majority of priests in a temple



Wizards


Apprentices are W1, Sor1 or W2, Sor2
graduates of the College of Sorcery are W3+, Sor3+
_________________
When one is perplexed, it is good to consult with an another. This will be seen by others as being strongly rooted.

One man's intelligence is like a tree that has been simply stuck in the ground.