DM
Duke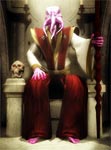 Posts: 396
Occupation: DM
Location: Victoria, BC, Canada
Posted: Thu Jul 09, 2009 6:05 am

Post subject: T4.3 A story overheard in The Loaded Hog

---

The Loaded Hog Tavern
City of Lofton
Province of Deseirain
Duchy of Alamie
late Pasiphiel, 551 MR

A dreary winters day in late Pasiphiel finds the patrons of the Loaded Hog tavern in Deseirain quietly attentive. Cole, a local farmhand from a nearby estate, recounts a sorry tale whilst a buxom barmaid refills his mug of ale.

Cole's story begins only two days past when his nephew, a boy of seven years of age, fails to appear for his daily chores. This being out of character for the boy, Cole and his brother began a search. Their inquiries lead them to a small clearing some distance out of town where an old man collecting winter firewood claimed to have seen two children being led by a soldier in Alamien uniform. However when the pair arrive they find no sign of the children or the soldier. What they do find is blackened bones amidst scorched earth and trees, some lengths of rope and many patches of disturbed earth that resemble shallow graves. Though Cole and his brother search each of the seeming grave sites they find no bodies.
_________________
When one is perplexed, it is good to consult with an another. This will be seen by others as being strongly rooted.

One man's intelligence is like a tree that has been simply stuck in the ground.